NHN700 is a medium duty floor spring with spindle and various options. For installation on internal and external doors up to 1250mm wide with a weight of 200kg max.
Using Cam action, NHN700 offers a range of benefits, such as closing and latch speed adjustments for a perfect closing action.
Back check which is ideal for high traffic doors as it offers resistance when the door is opened with excessive force, preventing damage.
Dual-handed for push or pull side mounting and Double door opening angle of 130°.
Variable closing force EN2-5
For doors up to 1250mm in width

200kg max door weight

Closing and latch speed adjustment

Non handed dual action

Standard supply is without hold open (hold open available as option)

With a range of door fitting accessories available

Extended spindles up to 50mm available

EN Fire Tested

Back Check

Standard finishes in SSS or Polished brass
Guarantee – A free replacement ex-works if any closer proved to be defective by faulty manufacture or defect in materials.
NHN700
Closing force - EN1154:1996+A1:2002/AC:2006
EN 2/3/4/5
Applicable Door
(Door Width / Door Weight)
< 850mm
<70kg
702
<950mm
<100kg
703 CE
<1100mm
<150kg
704 CE
< 1250mm
<200kg
705
Body dimensions (mm)
Length
306
Width
108
Thickness
40
Arm
Standard
O
Offset arm
O
O = Option
Introduction
---
Adjustment
Complete speed control – the closing speed and the latch speed can be controlled via two independent values.
---
Installation
Fitting to a double action door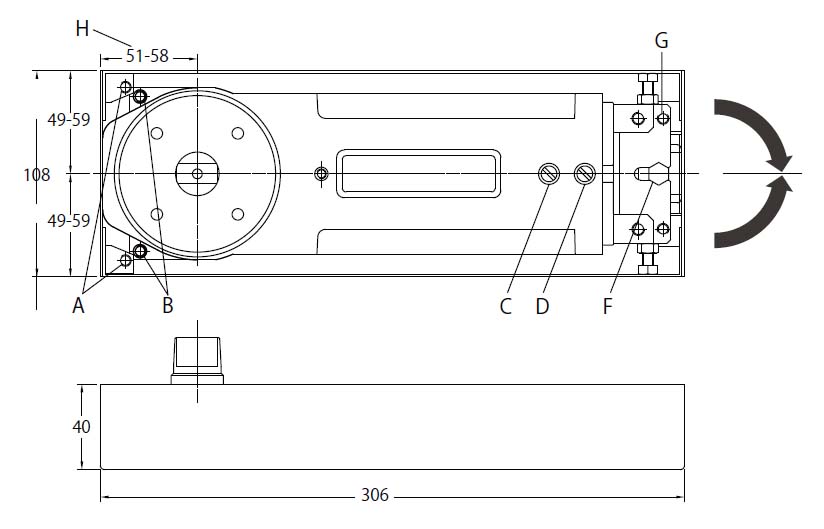 Accessories for double action aluminium and wooden doors
Model
700
Closing force - EN1154:1996+A1:2002/AC:2006
EN2 to 5
Applicable Door
(Door Width / Door Weight)
< 850mm | < 70kg
702
< 950mm | < 105kg
703 CE
<1100mm | < 150kg
704 CE
<1250mm | <200kg
705
Body dimension (mm)
Length
306
Height
108
Thickness
40
Arm
Standard
O
Offset arm
O
Cam-action
Y
Angle of Opening
130°
Closing Speed Adjustable
Y
Latching Speed Adjustable
Y
Hold-Open
Without Hold Open
Y
at 90° hold-open
O
at 105° hold-open
O
Back Check
Adjustable at valve
Y
Non-Handed
Y
Extended Spindle
+5, +7.5, +10, +15, +20, +25, +30, +40, +45, +50mm
Y = Yes | N = No | O = Option